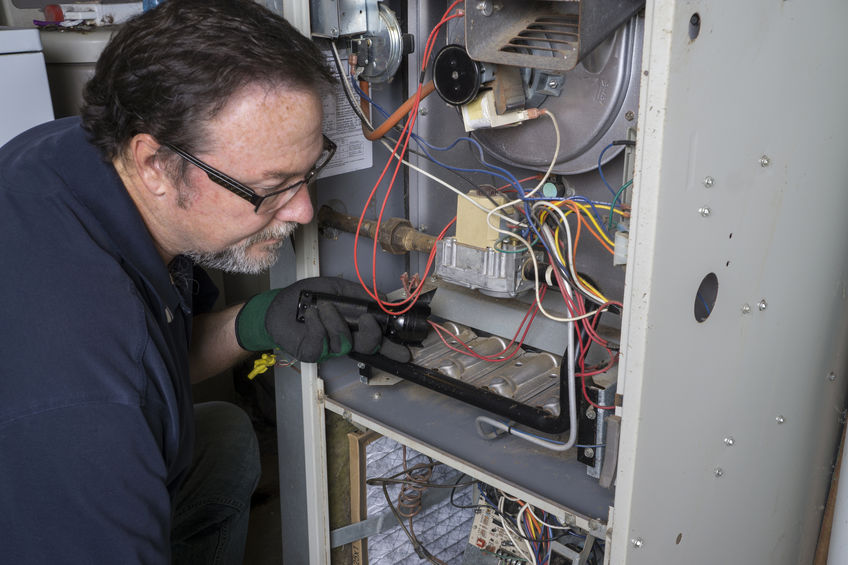 12 Feb

Furnace Maintenance & Repair: Comfort on Chilly Days & Nights

Winter and the rainy season keep most people indoors for longer periods. It feels so nice when you are warm and comfortable while the weather outside prevents you from going out. Of course the performance of your furnace has something to do with it. When you need to heat your home, you rely on your furnace to do what it is expected to do.

But what if it doesn't?

Who wants to feel chilly and uncomfortable when it's raining or snowing? We certainly don't.

The fact is many homeowners know that furnaces need an annual checkup. However, only a few people take the matter seriously, until something goes wrong. If you keep ignoring the fact, it's about time to realize why it is vital to have a regular furnace tune up. Do not think that furnace maintenance is not needed. One thing you have to keep in mind—a neglected furnace can lead to costly repairs or even replacement.
Reasons why furnace maintenance is essential
You may not realize it but regular furnace maintenance gives you several benefits, aside from providing you the right amount of heat to comfortably warm your home when the weather turns cold.
1.     Reduce your energy bill
About half of your energy bill is used up by a furnace. And if you live in an area where the winter is long, it all adds up. A regular furnace maintenance will run more efficiently, which equates to less energy consumption. It can save you as much as 30% on your energy bills. If you have a programmable thermostat and you use it smartly, you'll be able to save more.
Removing dust around the furnace and changing air filters are already part of regular furnace maintenance. Clean filters allow air to circulate freely, so the furnace is not strained. It also means that your unit will last longer and you avoid costly repairs.
Manufacturers recommend that you have new furnaces inspected and maintained every other year. But once your furnace is 10 years and older, it is better to give it an annual checkup. Call Ballard Plumbing and Heating now at 206-279-3013 and have an expert check your furnace.
A professional HVAC technician from Ballard Plumbing and Heating can easily find electronic failings, mechanical failings, intake blockages and air duct leaks. It is best to have your furnace inspected and tuned up before the winter season arrives so you can avoid breakages and malfunctions during the time when you need heat the most. Remember that emergency repairs cost more.
2.     Gas and carbon monoxide leak detection
Regular furnace maintenance helps keep you and your home safe. Heat from the furnace comes from burning fuel and it's vital to ensure that it is running efficiently.
Gas is highly combustible and a leak from your furnace system poses danger. Forgetting or postponing a furnace checkup may lead to carbon monoxide leaks, which are more difficult to detect, as carbon monoxide is odorless and colorless. Your family can suffer from headaches, nausea and other dangers if there is a high carbon monoxide buildup inside your home.
Schedule an annual maintenance so potential risks to your health and safety are prevented. A professional HVAC technician will ensure that your furnace is up to code and working properly.
3.     Extend the life of your furnace
A professional furnace technician does a wide range of testing and inspection, so your furnace can run better for a longer time. The technician sees to it that moving parts are lubricated, the condensate drains are inspected and cleaned and the starting capability of your unit is tested. All the maintenance work is needed to ensure that your furnace does not deteriorate quickly due to excessive wear and tear.
4.     Avoid costly repairs
With regular maintenance, your furnace receives full inspection, so small problems are easily fixed and not allowed to grow bigger and costlier to repair. It keeps your furnace running efficiently to heat your home comfortably during the times when you need heat the most.
5.     Improves air quality in your home
You value your health and one way to ensure that you remain healthy it to improve the air quality inside your home. Regular furnace inspection will detect the accumulation of pollen, mold, debris and dust in your HVAC system that can be cycled into your home repeatedly. Removing dust buildup, changing air filters, and cleaning the inside and outside parts of the furnace minimizes indoor air pollution. 
Let the experts do the work
We want you to stay safe, warm and comfortable during winter and on days when the weather makes you stay indoors.
It is important to get your furnace ready for the cold season. You do not want to enter a freezing house or wake up early in the morning due to the freezing cold because your furnace breaks down.
Save yourself from grief. Call Ballard Plumbing and Heating to schedule a furnace inspection. It's better to know the condition of your furnace early so you can have time to have it repaired or replaced. Our expert and licensed HVAC technicians can give you an analysis of your furnace and provide you with options and suggestions. We can help you make the right decision if you need to install a new furnace. We guarantee that the brands we carry are suitable for the environmental conditions and features of residential homes in Seattle. We also give you the assurance that we only use replacement parts that are compatible with the brand and model of your furnace so that it will perform at peak condition.
Ballard Plumbing and Heating has been serving the community for almost 50 years and we have come to know almost all of the residents of our community. Our clients span generations of Ballard residents, and our familiarity with the community helps us serve our clients better.
Do not hesitate to give us a call at 206-279-3013 when you notice something out of the ordinary with the operation of your furnace. Here at Ballard Plumbing and Heating, we'll help you keep warm and comfortable through fall, winter and days when heating is needed. We handle normal, scheduled or emergency services. Your comfort and satisfaction is our concern, and we guarantee you'll feel the results.
Image Copyright: John Wolf / 123RF Stock Photo